Mini speakers can add a significant boost to your phone, tablet, or even laptop to better enjoy and share your music -- and they make a great last-minute holiday gift!
I've previously covered the Big Blue Live Bluetooth Wireless Speaker from Brookstone that's a bit bigger than other "mini" devices, to work well as a desktop speaker and even speakerphone (see earlier post).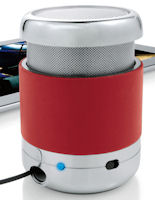 And Brookstone has added a Mobile Mini Speaker that is palm-sized, at 3 inches tall and 2 1/4 inches wide, with a clean look -- metal with a stitched wrap in black, brown, or red.
The Mini Speaker is wired, with an 18-inch retractable audio cable, to plug in to the audio jack on any portable device or laptop. (It also has an auxiliary audio input.)
And it puts out a nice sound, with better range than the built-in speakers on your phone or tablet, plus it has a pop-up top for extra bass and volume.
The Mini Speaker recharges via USB, for up to 11 hours of play time. It's available for $34.99 -- for a friend, or to keep for yourself.
See my Holiday Gadgets 2012 coverage of Portable Speakers for more on audio and other useful and fun ideas.

Find the Brookstone Mobile Mini Speaker on Amazon.com