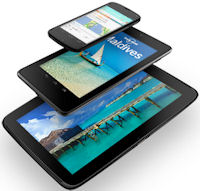 It's holiday gadget season, with companies from Apple to Amazon, and Microsoft to Samsung, working hard to court us with very different perspectives on portable electronic gadgets -- and to sign up our credit card numbers so that new purchases are just an easy click away.
To help make sense of the broad (and sometimes confusing) array of options, I'll be presenting my annual Holiday Gadgets talk in several locations in the Princeton area -- with a round-up of the latest crop of tempting portable gadgets, and especially the exploding options in portable tablets.
Another expanding focus this year is on the Cloud -- the possibilities of storing all your information and media in online servers. The idea is to make your life easier, so you won't have to plug into a computer in order to copy files to your device, or manage your stuff across multiple devices. But we'll also discuss the trade-offs of the cloud approach, and the big differences between the available services.

And, of course, we'll discuss and demo portable handheld devices, including smartphones and tablets, as well as dedicated devices like e-readers. Plus, another fun selection of portable accessories to share and enjoy your devices on the go, including video and audio, storage and power.
---
This year's presentation schedule:
Wed., Nov. 28, 2012, 7 pm - Princeton Public Library
65 Witherspoon Street, Princeton, NJ
www.princeton.lib.nj.us
Tues., Dec. 4, 2012, 10 am - Hopewell Township Library
245 Pennington-Titusville Rd, Pennington, NJ 08534
www.mcl.org/branches/hopbr.html
Tues., Dec. 4, 2012, 2 pm - Computer Learning Center at Ewing
Ewing Township Senior and Community Center, 999 Lower Ferry Road, Ewing, NJ
www.ewingsnet.com
Wed., Dec. 5, 2012, 7 pm - Hopewell Public Library - Wednesday Night Out
Hopewell Train Station, 5 Railroad Place, Hopewell, NJ
www.redlibrary.org
---
See my annual article for more on this year's crop of goodies: -
High Tech Holiday Gift Guide
U.S. 1 Newspaper, Nov. 21, 2012
And details and links in my Holiday Gadgets 2012 series:
- Cloud Services - Store, Share, Sync in the Cloud
- Handheld Devices - Media Players, E-Book Readers,
Smartphones and Tablets
- Portable Accessories - Audio, Imaging,
Storage, Power, Cases, Digital Health


(Illustrations: Google Nexus smartphone and tablets, Apple iCloud diagram)