Power is still the weak point of our engagement with portable devices. It's great to be constantly checking e-mail, browsing the web, playing music, and watching streaming video -- but not so great when the baterry runs down before the end of the day.
Plus, today's devices require more power -- Smartphones like the iPhone use more than the smaller iPod media players, and the iPad and other tablets require more amps to recharge (stronger electrical charge), which result in larger external batteries.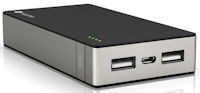 To meet this need, and more, Mophie has extended its line of portable batteries with the new Mophie Juice Pack Powerstation Duo, which not only packs power for larger devices (6000 mAh, output up to 2.1 amps), but also features dual USB ports so you can charge two devices simultaneously.
It's best to charge a tablet like the iPad by itself, but you can charge two smartphones like the iPhone at the same time. Use the LED power level indicators to check the battery status as you charge.
The Powerstation Duo also has a microUSB port to recharge the internal battery, from a computer or an iPhone / iPad or compatible wall charger.
All this comes in a relatively small and lightweight package (around 4.3 x 2.3 x 0.8 in. and 1 lb.). The design also is nicely understated, with black soft-touch top and bottom surfaces and a stainless steel outer band.
The Mophie Juice Pack Powerstation Duo is available for around $99. The Juice Pack line also includes more compact models, for tablets and for smartphones, including a rugged version and several designs with built-in Apple connectors.

Find the Mophie Juice Pack Powerstation Duo on Amazon.com