Fingers are great for sliding and flicking and picking, but when you want to do some more extensive or precise work (or really go to town in Draw Something), a stylus can be a real help.
But the stylus needs to be comfortable to hold and manipulate -- not too small or light or slippery.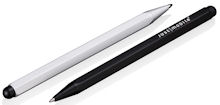 So Just Mobile has another interesting and elegant design idea to offer (see previous post) -- the Just Mobile AluPen Pro Stylus & Pen.
The AluPen is made from aluminum, with a soft rubber stylus for the iPad and other capacitive touch screens. Its chunky design provides the bulk to hold comfortably and securely, like a solid pen.
The AluPen stylus is available in a range of bright colors for around $18. Or the AluPen Pro is a combination stylus and pen, including a retractable Pelikan ballpoint with twist mechanism for around $36 in silver or black.
After all, you don't always need a stylus when using your iPad, but when you do, doesn't it make sense to use a special tool for the job?
See my Portable Accessories 2012 article for more on portable storage, audio, power, cases, imaging, and other accessories.

Find the Just Mobile AluPen on Amazon.com