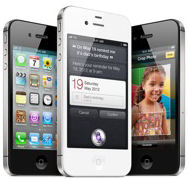 It's time for my annual holiday gadgets review, and this year it's all about portable and wireless, smartphones to tablets to e-readers -- especially with the ongoing momentum of the Apple iPad, the impressive continued demand for the new Apple iPhone 4S, and the strong pre-orders for the just-released Amazon Kindle Fire tablet.

For a preview of the holiday shopping season, the Consumer Electronics Association has released its annual Holiday Purchase Patterns study. The CEA sees modest growth in total consumer spending for the holidays ($1478 per household, up 5% from last year), and slightly stronger growth in the percentage going to CE products ($246, or 32% of the holiday total).
It's clear that portability dominates in the CEA study, as the #1 product that adults would like to receive is tablets (14%), followed by notebooks (11%).
Then come TVs (6%) and video game consoles (5%) for the home, followed by other portable devices -- e-readers (5%), MP3 players (3%), and smartphones (2%). That's a clear message on the hot topics for the holidays.

My annual Holiday High Tech Gift Guide 2011 is in this week's U.S.1 Newspaper (or see the full issue in PDF).
Then I'll be doing a series of Holiday Gadgets and Gifts talks in the Princeton area (see talks schedule), starting with the Princeton Regional Chamber of Commerce this week, and back at the Computer Learning Center at Ewing and the Hopewell Public Library next month.
The content of the talk, with the products that I'll be demoing, is now posted as this year's article -- Holiday Gadgets 2011: Portable and Wireless
(Illustrations: Apple iPhone 4S, Amazon Kindle Fire tablet)

Find the Amazon Kindle Fire on Amazon.com