Today's video editing software running on mainstream personal computers can handle even high def material with aplomb. But we demand more -- beyond HD to 2K and 5K cinematic resolutions, real-time editing of complex compressed formats like AVCHD, and building multitudes of layers on the timeline while applying sophisticated effects like color correction. And then we'll move on to 3D video...
So how can we keep up?
One answer is raw speed from the CPU (central processing unit), but the growth in GHz is peaking, as chips are expanding instead with multiple processing cores. Luckily, this parallel processing capability matches nicely with the demands of video editing, particularly decoding and encoding video stored in multiple blocks of data.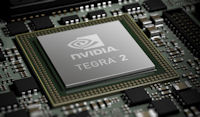 Meanwhile, the CPU-sucking needs of the gaming market has lead to the development of sophisticated GPU (Graphics Processing Unit) chips to off-load drawing in the frame buffer, including shapes, textures, and blending. Working together, multi-core CPUs plus parallel GPUs can allow PCs to challenge the performance of dedicated gaming systems.
Even better, GPUs also do the kinds of things that we want for video editing -- not just drawing pixels, but transforming and warping, merging and blending.
So while CPU chips have been adding integrated graphics capabilities, which are particularly useful for lower-cost and lower-power systems, the combination of a powerful multi-core CPU and video card with parallel GPU can provide a serious kick to accelerate your video editing experience.
Today's video editing tools, including Apple Final Cut Pro X, Adobe Premiere Pro CS5.5, and Sony Vegas Pro 10 leverage the capabilities of GPUs from AMD and NVIDIA for tasks including accelerated AVC / H.264 encoding and rendering, real-time effects, and specialized tasks such as motion and scaling, time remapping, compositing, opacity, deinterlacing, and the handling of multi-format timelines.
If you're thinking about accelerating your video editing, see my full article in Videomaker Magazine for more on evaluating your options for GPUs.
See my Video Editing Software Gallery for information and links on video editing tools.