For more fun iPad cases (see previous posts), Speck has some original designs for protective cases and bags for popular portable electronic devices, from smartphones to laptops.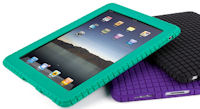 To protect your iPad, one smart design is the PixelSkin Case for iPad, a soft-touch textured silicone case with a grid of square "pixels" for a comfortable and secure grip. (Yes, they're really big "pixels," fitting the slogan -- "5 DPI Never Looked So Good!")
The PixelSkin fits snugly around the iPad, wrapping around the front to hold the frame around the screen. It's available for the iPod for $39.95, in black, indigo, and green, and for the iPhone for $29.95, also in an HD version with finer pixelation.
Or to pack up your iPad when travelling, there's the Speck PixelShield Carry Sleeve for iPad. Just slip your iPad in the slot and it's fully enclosed, and ready to go with the integrated handle.
The design has a textured neoprene exterior, with one flexible side for the slot and the other firm reinforced side to protect the screen, plus a soft micro-fleece interior lining. The PixelShield is available for the iPod for $39.95, in black and red.
There's also a zippered PixelSleeve for other tablets and netbooks up to 10 inches, and PixelSleeve Plus for iPad.

Find the Speck PixelSkin and PixelShield on Amazon.com