We're getting used to having wireless Internet access on our portable devices, as we check e-mail and download apps on our smartphones, browse the Web and watch YouTube videos on our Apple iPad, and download books in minutes on our Amazon Kindle E-book reader.
But the download speeds of today's 3G (third generation) mobile data services are still a bit sluggish, as it takes noticeable time to load a new page or download a song. Mobile data access still feels more like yesterday's now-poky DSL service over phone lines than the kind of wired broadband services that we now enjoy at home.
But that's changing, with the arrival of next generation "4G" mobile broadband service, stepping up real-world data rates on the order of 10X faster, from DSL to home broadband rates (i.e., increasing download speeds from today's around 500 Kbps - 1.5 Mbps to 5 - 12 Mbps, and upload speeds from around 500 Kbps to 2 - 5 Mbps).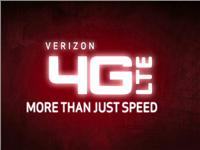 And this promise is now actually here, as Harry Martin of Verizon Wireless explained at last night's meeting of the Princeton Chapters of the ACM and IEEE Computer Society. Harry is Director of Advanced Technologies for Verizon Wireless' Philadelphia tri-state region, which is one of the initial markets for the recent launch of the Verizon 4G LTE network for next-generation wireless broadband service.
Martin explained that LTE (Long Term Evolution) in not just a Verizon technology, it's a widely-adopted international standard, with some 90% of carriers planning to move to LTE for 4G service, promising easier roaming when traveling overseas and economies of scale to help reduce product costs.
Beyond better data rates, LTE technology also provides benefits including lower power usage for mobile devices, reduced latency for better responsiveness (half that of 3G), more efficient use of spectrum to support more simultaneous users, and enhanced security for authenticating your SIM cards and protecting message traffic from spoofing. Plus, the LTE radio technology and spectrum wavelength reduces multipath and multiuser interference, and can penetrate further into structures, resulting in better connectivity in current wireless dead spots.
Martin also described how multi-antenna technology offered the future promise of redoubling the LTE data rates, particularly as Verizon has additional spectrum available in parts of the country.
Verizon Wireless powered on its 4G LTE network on December 5, initially in 38 major metropolitan areas covering more than 110 million Americans, plus at more than 60 commercial airports. Verizon expects to complete the LTE roll-out with full nationwide coverage in 2013.
Verizon's initial service is targeted to business road warriors, using a USB modem that you plug in to a laptop to go online. Verizon offers two USB modems, the LG VL600 and Pantech UML290, which are available for $99.99 (after a $50 mail-in rebate, and with a new two-year customer agreement). These both are backwards compatible with the existing 3G data service in areas not currently covered by LTE.
The initial Verizon 4G LTE mobile broadband service is available with two monthly data service plans similar to existing 3G plans: $50 with a 5 GB monthly allowance, or $80 for 10 GB, both with $10 per GB overage charges for additional usage (the same rate as the lower allowance).
However, these monthly bandwidth caps certainly are not 10X more than current 3G plans, so don't expect to significantly change your usage patterns, for example by starting to stream video all day -- It's still smart to take advantage of Wi-Fi when available, especially for big downloads.
(Actually, at a 10 Mbps download speed, you can move 4.5 GB per hour, so you could blow though the Verizon $50 for 5 GB monthly plan in a little over an hour of continuous downloading; At $10 / GB, that's $45 per hour of downloads.)
But even with this early service, you can see how LTE can provide much faster and more efficient access to must-have information, especially for the initial market of business users. For example, you can download a 700 MB CD of data files in a little over a minute, or upload a 10 MB PowerPoint presentation in under 25 seconds.
And this is just the beginning, as Martin discussed the potential of LTE to support the growing demand for always-connected people and devices. To illustrate this revolution, he showed the Social Media Revolution video (on YouTube), based on the book Socialnomics by Erik Qualman, with startling statistics on the growth and impact of social media and mobile.
For example, with faster uploads, LTE can provide better two-way high-def video conferencing and even remote video monitoring. With lower latency, it promises better interactive multi-player gaming. And with low-cost chips, it allows a much broader range of devices to be connected and inter-connected, so, for example, your car or even washing machine can report problems and call for maintenance.
So 4G is here, at least for road warriors, and it's coming soon to broader use in a wide range of mobile phones and other devices, with exciting possibilities for new applications and services from desktop connectivity on mobile devices.
- See the article on Harry Martin's talk in Princeton in the U.S.1 Newspaper
- See my article on Holiday Gadgets 2010: Portable and Wireless for more on 4G services and current mobile wireless products
- See my Mobile Communications Gallery for more on mobile data services and products

Find Socialnomics by Erik Qualman on Amazon.com