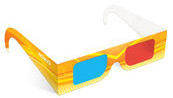 Princeton has posted a nice summary of my presentation on 3D: The Next Dimension there last Wednesday (see previous post).
The podcast of the talk already is available as a MP3 file.
The podcast also will be available for easy download to iTunes, and iPhone, iPod, and iPad devices on the Princeton iTunes U channel (click to open in iTunes).
See a full list of my talks at Princeton, with links to abstracts, presentations, and podcasts (MP3 and iTunes U).
See my accompanying article --
3D - The Next Dimension
- Part 1 - Seeing 3D: Market, Technology, Formats
- Part 2 - Using 3D: Products, Shooting, Editing
(Image: Courtesy Roxio for Creator 2011 - see previous post)