Fujifilm kindly loaded me the Fujifilm Real 3D W3 digital camera to demo at my recent 3D talk. This is a clever design that replicates our stereo vision by including two separate 10-megapixel CCD sensors and dual FUJINON 3x optical zoom lenses that are spaced on the front of the camera like our eyes.
The result is powerful 3D images (and video) that look great on the computer monitor, on the projection screen at the talk, and even printed on stereocards for olden-days viewing.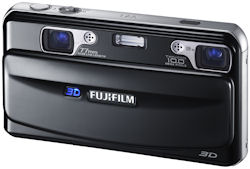 The W3 is the successor to last year's Fujifilm W1, adding higher-res images, with video up to 720p (1280x720, 16:9 widescreen, at 24 fps), a larger widescreen 3.5" LCD, and Mini HDMI port for viewing directly in HD displays. The back display uses lenticular 3D technology, so you can view your images (and preview the shot) in 3D, with no glasses required.
The W3 still shoots "regular" 2D photos as well, swapping between 3D with a dedicated button, including simultaneously capturing in 3D and a standard JPEG. Since there are two imagers available, it also smartly offers 2D Dual Shooting modes, to simultaneously capture the same scene with different color, zoom, or sensitivity settings.
The 3D photos are stored in MPO (Multi-Picture) format, with two JPEG images (for the left and right eyes) stored in the same file. Fujifilm provides MyFinePix Studio software for Windows as a free download to import and do basic editing with the 3D photos and video.
Other 3D software tools like Roxio Creator 2011 (see previous post) can import (and export) in MPO format, and offer more display flexibility and editing features. Otherwise, since a MPO file is basically JPEG, you can rename the file to .JPG and view the first image with standard photo viewers.
Similarly, the 3D videos are stored in 3D-AVI files, using the AVI format as a container to hold individual video sequences for both the left and right eyes. Again, existing video software can play these files and see the first stream, but interestingly Media Player in Windows 7 sees both streams, and plays them simultaneously in two separate windows.
So if you're interested in getting into 3D, the Fujifilm W3 is a great tool for shooting your own deep content as both photos and videos. Clearly colorful sun-lit scenes work best for a strong 3D effect, but I also got some powerful shots, for example, of a stream under trees and of New York City on overcast days. Just remember to not frame shots like tall buildings by turning the camera sideways to shoot in portrait mode -- it turns out our eyes are positioned horizontally...
See my accompanying article on 3D - The Next Dimension
- Part 1 - Seeing 3D: Market, Technology, Formats
- Part 2 - Using 3D: Products, Shooting, Editing
See my Digital Cameras Gallery for more details on the Fujifilm W3 and other interesting imaging devices and accessories.

Find the Fujifilm W3 3D Digital Camera on Amazon.com