It's the era of high definition, shooting with equipment from professional video cameras and video DSLRs, to HD consumer camcorders, and even small pocket camcorders.
Video-editing software also has stepped up to the challenge, so you can edit even HD video comfortably on today's computers, from consumer applications like Corel VideoStudio Pro X3 (see earlier post) to professional tools like Adobe Encore CS5 (see earlier post),
But how can you share these productions in their full HD glory? One answer is to export your HD video clips to play back directly on a PC, for example in QuickTime or Windows Media Video format. You also can share online by uploading in HD to video sharing websites, usually in Flash or MPEG-4 / H.264 formats.
Or you can view and share your production in your own home, and with others, in full HD quality on your big widescreen HD display by burning to Blu-ray disc.
With new releases of video tools like Corel VideoStudio Pro X3 and Adobe Encore CS5, you now can choose from several varieties of HD disc designs, from authoring basic Blu-ray discs with DVD-like menu screens, to Blu-ray pop-up menus overlaid on video, and even burning in widescreen AVCHD format to standard DVDs.
For more on your options in using Blu-ray to share your HD productions on physical discs, see my full article, DVD Creation within the Blu-ray Format, Videomaker magazine, August 2010.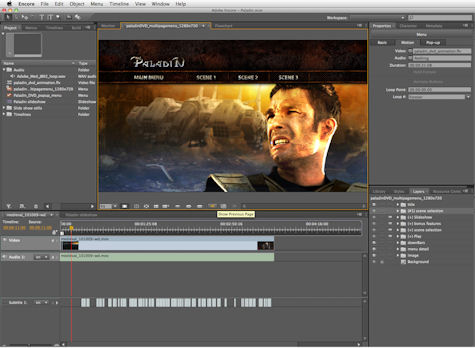 Menu editing in Adobe Encore CS5
- See my article - Walkthrough: Corel VideoStudio Pro X3, for a summary of the VideoStudio Pro applications and features.
- See my article, Summary: Adobe Creative Suite 5, for a breakdown of the tools and suites, and highlights of what's new with the CS5 applications.
- See my Video Editing Software Gallery with for more on Corel VideoStudio Pro X3 and other video editing tools.
- See my DVD Authoring Software Gallery for more on Adobe Encore and other DVD authoring tools.

Find Corel VideoStudio Pro X3, VideoStudio Express 2010, and the Photo & Video Pro X3 Bundle on Amazon.com.

Find Adobe Premiere Pro CS5, Adobe CS5 Production Premium, and Adobe CS5 Master Collection on Amazon.com.