Today's laptops and netbooks are loaded for everything -- to use for work and play, from editing office documents to enjoying music and video. And these notebooks work well for personal viewing, to pass the time on an airplane as you listen on earphones.
But the great widescreen displays typically aren't matched by great sound, as manufacturers shoehorn tiny (and tinny) speakers onto their devices. You can boost the audio with external speakers like the Altec Lansing Orbit -- mono speakers bulked up to handle rattling around in your travel bag. These are available in models with a standard audio jack (to also play from portable media players like an iPod), and with a USB interface to plug and play from a laptop (see earlier post).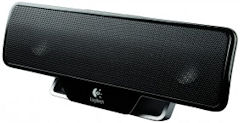 But for more focused sound from your notebook, the Logitech Laptop Speakers with dual stereo drivers have a clip-on design that positions the sound up and facing you, mounted on the top of the display or monitor. The sound can fill a room nicely, but won't blow out your ears -- I set the system volume down to around 10 percent when sitting right in front of the speakers.
These connect simply to your PC or Mac notebook with a USB cable. There's no hassle -- just plug in and they become the audio output for your music and video -- with no software to install, no extra power cable or batteries -- just plug and play.
The speakers also offer power and volume buttons, and do have a 3.5mm audio input jack for connecting external media players.
The Logitech Laptop Speakers are still relatively small and light for travel (7 x 2 1/2 x 1 1/2 inches, 2 pounds), and come with a protective carrying case for $39.99.
See my Audio Accessories Gallery for more on portable speakers and earphones.

Find the Logitech Laptop Speakers on Amazon.com