Kensington has quietly developed an interesting line of portable batteries and chargers for iPods and other portable devices, including models for travel, car, and international travel.
Many of these models supply power through a standard USB connector, so they can work with the adapter cables that come with many devices. And many include iPod connector cables and/or mini/micro USB cables, so they work with the growing universe of handheld devices that use standard small USB interfaces.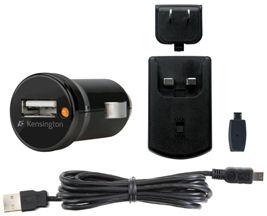 For example, the precisely named Kensington Wall and Car Charger for Mini and Micro USB Devices product includes both a USB wall charger (albeit with only one USB outlet), a USB car charger, and a mini-USB charging cable with a small micro-USB adapter -- all for $29.99.
That should be all that's required to charge many devices with standard USB interfaces, including, say, Android smartphones.
The Kensington USB car charger also is particularly mini. It's not much larger than the lighter socket -- some 2 inches long and less than an inch diameter.
So as more devices use standard USB interfaces for data and charging, you can leave all those custom power adapters at home, and just bring along one USB wall and car charger to power up whatever device, whenever you need it.
See my Portable Power Accessories Gallery for more on portable chargers

Find the Kensington Wall and Car USB Chargers on Amazon.com