Doesn't your MacBook (and iPhone and iPod) deserve to sleep in comfort? Maybe nestled in a fleece-lined sleeve made of natural, sustainable materials including burlap and hemp -- like the ColcaSac naturally protective sleeves for MacBooks and portable devices.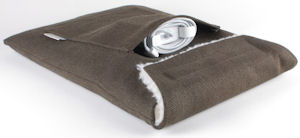 The ColcaSac sleeves are simple and strong, padded with a soft polyester sherpa fleece lining, with a velcro closure, plus a CD-sized external pocket. They are priced at $39.95 with burlap, hemp, or print fabric exteriors, in brown, black, red, and patterns. These are available in a range of sizes for the 13" to 17" MacBook / Pro, MacBook Air, PowerBook, iBook, or other similarly-sized notebooks.
ColcaSac also has iPhone and iPod classic / touch sleeves for $14.95, and iPad and Kindle sleeves for $34.95.
ColcaSac even promotes these sleeves as a theft deterrent, since the natural fabrics aren't usually associated with expensive electronics inside -- although the warm and comfortable designs may be tempting on their own.
See my Portable Peripherals and Accessories Gallery for more on protecting your devices.

Find ColcaSac Fleece Sleeves on Amazon.com
Summary - ColcaSac Fleece Sleeves ...

Simple, functional and fashionable - Strong, sustainable materials

- Padded for protection from drops, dents and scratches

- Lined with soft, 100% polyester sherpa fleece

- Theft deterrent (no one associates electronics with natural fabrics)
MacBook sleeves for MacBook, MacBook Air, MacBook Pro notebooks
- Vertical-loading sleeves, secured with durable velcro closure
- External pocket to carry power adapter, mouse, USB drives, CDs, etc.
- Original / red burlap, dark brown basketweave / black hemp canvas, damask & twilight print fabric
- 13 - 17" MacBook / Pro, MacBook Air, PowerBook, iBook, $39.95
Also:
- iPhone, iPod classic / touch sleeves, burlap and black, $14.95
- iPad sleeves, black, vine, damask, red, $34.95
- Kindle sleeves, hemp, burlap, cotton canvas, $34.95