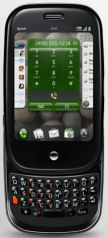 I've you've been interested in trying out a smartphone, but have been put off by the idea of paying $200 for an iPhone, Verizon Wireless has just started a new promotion for you -- the Palm Pixi Plus is now only $29.99 (originally $99), and you get a second one for free!
That's a full-fledged smartphone, with Web browsing, e-mail, camera and media playback, and downloadable apps to customize your experience and connect to your social networks (see earlier post). And, oh yeah, it's also a mobile phone and an organizer, with syncing of contacts and calendars to the desktop and online. The Pixi design is relatively small and light, with a built-in keyboard to help you keep communicating.
And if you want a little more power, the Palm Pre Plus from Verizon is now only $49.99 (originally $149), with a larger screen, double the memory, and higher-res camera, in a slide-out keyboard design. And you get a second one for free.
Even better, these both support 3G Mobile Hotspot -- which turns your smartphone into a local Wi-Fi hotspot for up to five devices. And Verizon now offers this service with up to 5 GB a month for free (was $40 for 5 GB and 5 cents per megabyte overage).
So, for example, the Palm Pixi Plus can act like the Verizon / Novatel MiFi (see earlier post), connecting to the cellular broadband service wherever you are, so your laptop or other portable devices (like an iPod touch) can quickly go online using their built-in Wi-Fi networking.
Some gory details: These prices are with a two-year activation. All Verizon smartphones require at least a $29.99 monthly data plan (which includes unlimited personal e-mail and Web). However, while any Wi-Fi devices are connected to the phone all data traffic is billed to the Mobile Hotspot plan (and not the smartphone data plan). The 3G Mobile Hotspot application itself is a free download, and supports both open and protected Wi-Fi service.
Also note that Palm Pre and Pixi come in two flavors, the original versions sold through Sprint, and the newer Plus versions sold through Verizon, with the mobile hotspot feature. The Pixi Plus also added Wi-Fi and the Pre Plus doubled the memory.
And shop do around: Walmart is offering big discounts on smartphones -- the Palm Pre Plus is free with online discount, and the Pixi Plus is not only free, you actually get paid $50 from a mail-in rebate.
The bottom line is that you can get a nice smartphone (or two!) for under $30, and also have it serve as a free mobile hotspot. Of course, while the 5 GB limit is great for checking e-mail and basic Web browsing, don't plan to be streaming movie videos to your laptop over Wi-Fi.
See my full article on the design of these new Palm smartphones: Palm Pre: Product Summary
See my Mobile Communications Gallery for more on the Palm and other smartphones.

Find the Palm Pixi Plus and Palm Pre Plus on Amazon.com.