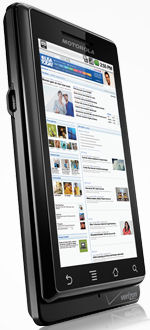 The Android 2.1 software upgrade that originally shipped with the Google Nexus One phones is now rolling out on the Verizon Wireless Droid by Motorola.
This finally adds Pinch to Zoom for web browsing and other apps including Gallery and Google Maps, so you can just pinch or spread your finger and thumb to zoom smaller or larger (yes, just like the iPhone).
But the bigger addition is the expansion of Speech to Text -- all text entry is now voice enabled, for any app. The virtual keyboard has a new microphone icon next to the space bar. Tap and just speak your search query or sentences to write (in English), and Android enters the text field for you.
This is not perfect, but it's typically plenty good enough for searching, and perhaps adequate for quick notes -- and a lot faster than typing on a small keyboard (see earlier post on Gesture Search).
The 2.1 upgrade also includes a new version of the Gallery app that now browses media stored online at Picasa, with a "3D" view for browsing photos and videos in stacks. There's also an enhanced Music app with new navigation tabs, and a new News and Weather app and widget customized for your location.
Other nice improvements include Live Wallpapers for animated home screens and Night mode to automatically dim the screen.
Also -- Google Earth now runs on the Droid, as well as the Nexus One and iPhone. You can fly around the globe and then zoom in on a location, now also with search by voice, plus local information and a roads layer as in Google Maps.
Your phone will automatically notify you when a system update is available, or you can check using Settings, and selecting About phone (at the bottom of the list), and then System updates. This update is identified under About phone as Firmware version 2.1-update1.
See my full article, Verizon Droid from Motorola: Android 2.0, for more on the Droid's design and features and technical specifications.
See my Smartphone Apps Gallery for more on these and other mobile apps.
See my Mobile Communications Gallery for more on smartphones.

Find the Verizon Droid from Motorola on Amazon.com
Update details ...
Android 2.1 software upgrade for Droid by Motorola
You can read more about the update online, though verizonwireless.com/droidsupport, which links through to a Verizon Software Update summary document (PDF). Also see the Motorola Release Notes (PDF).
The Verizon Support site also provides additional information about the Droid, including the User Guide and online tutorials.
New features:
- Pinch to Zoom - for web browsing, plus Gallery and Google Maps applications
- Speech to Text - Speak in plain English instead of typing whenever a text-entry box appears on your Android device. Press the new microphone key on the virtual keyboard and dictate your phrase.

- Night mode - Automatically screen at night for easier viewing and driving in Google Maps Navigation
- Live Wallpapers for richer, animated, interactive backgrounds on the home screen. (Long press > Wallpapers > Live Wallpapers)

- Gallery App - New version - Browse and view photos, videos, and album art images from your device, plus also online Picasa Web albums. View albums as layered stacks that gently move as the phone is tilted (3D view). Tap to scroll though thumbnail images, or browse by date. Share (with a long-press) on Facebook, Picasa, Email, Bluetooth or MMS.
- Music App - Enhanced - New tabs for easier access and navigation to favorite artist, songs, albums, playlists
- News and Weather App and Widget - New - Customized for your location

- Google Maps - Updated - Auto suggestions based on personalized search history on maps.google.com (Previously available for download)
Sync with desktop - Starred items for Google Maps
- Google Goggles App - Preloaded - Snap a picture to start a Google search, scan business cards as contacts. Displays information about your environment (Previously available for download -- see earlier post)

- Free Yahoo! Mail is now supported - Sign in with Yahoo!email address and password (Not available when using Verizon Wi-Fi)
- Improved handset audio when disconnecting a wired headset
- Security - Prevents unauthorized pattern lock bypass
- Battery life - Ongoing battery life optimization
- Email account removal - Improvements to manual removal of email accounts