I've been working the theme of USB-based chargers that help simplify the task of keeping all your devices charged, especially portable chargers for use on the go (see previous posts). You may still need specific USB adapter cables, but at least you don't need to bring custom chargers for each of your devices.
So I should also mention the clever family of Reserve chargers from Griffin Technology, available individually or as the Griffin PowerDuo Reserve bundle.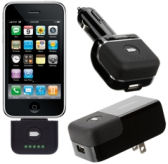 The PowerDuo Reserve product includes three products for complete charging support. It starts with both an AC wall charger and an auto charger for USB-rechargeable devices, including the iPod, iPhone, and other phones and MP3 players. Plus, the chargers are designed with a removable iPod / iPhone battery pack that you can take along when you're uncabled.
The wall charger/adapter is the PowerBlock Reserve, with a USB port and fold-up prongs.
The USB auto charger is the PowerJolt Reserve, for 12 volt DC cigarette lighter or accessory socket.
Both chargers are relatively small and light, but with a nesting area for the Reserve backup battery pack. The battery snaps into place magnetically, shows charging status with LED lights, and then pops out to charge an iPod or iPhone with the built-in dock connector. It's rated to provide up to 24 hours of music on an iPod nano or 2 hours of talk time on an iPhone.
So you can have your cake, powering your devices at home or in the car, and eat it too on the go, boosting with the portable battery.
The PowerBlock and PowerJolt Reserve with a battery pack are each $39 (street $29), and an additional battery is $19. PowerDuo Reserve with both chargers and one battery pack is $59 (street $45).
See my Portable Power Accessories Gallery for more on portable chargers

Find the Griffin PowerDuo Reserve, PowerBlock Reserve,
and PowerJolt Reserve on Amazon.com