Flexible Search -- Google Gesture Search
I've been really spoiled lately by using the Google Android search by voice on the Verizon Droid phone -- and not just for doing translations (see previous post). When looking up crossword clues, for example, it's so much easier to speak a phrase instead of typing tricky words on the virtual keyboard -- although the Droid did have a problem today understanding "Cy Young award" (it heard "scion").
But even occasional misunderstandings aren't a big deal, with the impressive ability of Google search to figure out what you probably meant, even if you couldn't express it fully. This kind of flexibility is really helpful for searching, since you can get to the right results even if you misspell some words, or don't have all the right words. But what if you don't even have the right letters to make up a word?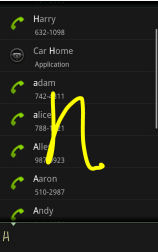 The new Google Gesture Search app takes this idea to the next level. The idea is that you draw letters on the touch screen, and it instantly displays matching items on your phone -- contacts, bookmarks, apps, and music. Just enter a couple of letters to display any names that contain that sequence.
But how can this work? Can you really depend on each letter being correctly recognized? It doesn't matter with Gesture Search -- it just searches on multiple possible letters for each of your gestures, and shows all possible matches.
As a result, you can write quite loosely. You can enter upper or lower case. You can draw the full character with multiple strokes (like the cross bar on "A" or "F") -- but why bother? Just keep entering more loose letter gestures, and the list of matches will reduce down to what you are looking for. (Of course, this works so well because Gesture Search is working with a known list of items on your phone -- this would be less useful for doing general text searches of the web.)
This is another fun Android application from Google Labs, experimenting with new ways to use our mobile devices (see previous posts on Google Shopper and Google Goggles). Gesture Search is currently English only, and has options to select the items to search (i.e., omit the music library), to regenerate the search index, and to send gesture data to Google to help improve the application.
See my Smartphone Apps Gallery for more on mobile apps

Find the Verizon Droid from Motorola on Amazon.com