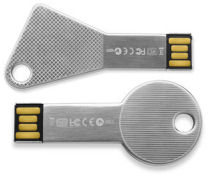 The LaCie line of USB drives designed as metal keys has expanded further with the new WhizKey (triangular) and CooKey (rounded), available with up to 32 GB of storage for $99. These join the previous imaKey and itsaKey designs (see previous post) -- packaging portable storage in a rugged, flat, and thin design that is easy to carry on a key ring. These are actually half the thickness of a USB port, with a gold SIP connector with protective edges, and water- and scratch-resistant.
In addition to the built-in flash memory, these keys also add 4 GB of online storage for 2 years using the Wuala technology (now owned by LaCie -- see previous post). And new LaCie hard drives include 10 GB of online storage. Wuala encrypts your files, splits them into fragments, and then stores them redundantly on servers and in its grid network of users.
This combination of physical and cloud storage was a developing trend at the recent Consumer Electronics Show (see previous post).
In the home, set-top boxes (like Blu-ray players) are expanding into home media servers that also deliver Internet TV, and external disk drives have become home networked attached storage (NAS) units that are also remotely accessible over the Internet. Meanwhile, cloud services now offer to outsource all your storage away from physical boxes to online for easier access, sharing, and backup.
And on mobile devices, growing local processing power and expanding storage capacity is becoming less important as cloud services bring full-strength online functionality like language translation into your hand (see previous post).
As with these new LaCie USB keys, there's a good argument for combining the best of both -- having physical possession of your data plus online backup for remote backup and sharing.
See my Portable Storage Gallery for more on storage formats and devices.

Find the LaCie WhizKey and CooKey on Amazon.com