While the obvious excitement at CES was around big screens with 3D TV, and small screens with smartphones (see previous post), there also was lots of action with new E-book readers in the middle range of screen sizes -- handheld but bigger than your pocket.
There's a place in the market for these slightly larger (but still thin) devices. They're optimized for reading, but also are adding other features including general document storage (particularly with external SD cards), media playback (music and photos, although not video on E-ink displays), and Internet browsing (at least simpler static sites). The new designs experiment with new display technologies, including dual screens (E-ink and LCD -- see previous post).
- The Amazon Kindle is available in 6" and 9.7" versions, and in global editions with wireless coverage in 100 countries, at $259 and $489 respectively (see previous post). Amazon reports that over the holidays the Kindle was "the most wished for, most gifted, and #1 bestselling item across the millions of products sold on Amazon.com." (Of course, most other products are sold at many other outlets as well.)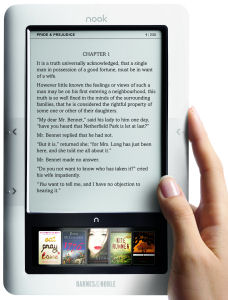 - The Sony Reader Daily Edition adds 3G wireless coverage to the Sony line. It has a 7.1" display, plus touchscreen navigation, and should be shipping this month for $399. You can download content from the Sony Reader Store and Google Books, and store on external SD or Memory Stick cards.
- The Barnes & Noble Nook (shown here) combines a 6" E-ink touchscreen display with a small 3.5" color touchscreen LCD strip at the bottom for control and navigation. You can download books from B&N through the included AT&T 3G wireless, or using Wi-Fi (free in B&N stores). It's $259, with an expected ship date in mid February.
- The Audiovox / RCA Lexi eReader (PDF) has 6" display, and is designed to sync via PC or Mac (not wireless). It's due in May for $229.
- The Plastic Logic QUE is a bigger 10.5" reader targeted to business professionals. You can download common formats over wireless, or convert and sync office documents on the desktop. Two versions are due in April: QUE WiFi with 4 GB for $649 and QUE 3G (& WiFi) with 8 GB for $799.
- The Samsung E6 6" and E101 10" E-book readers feature an electromagnetic resonance (EMR) stylus pen to handwrite and annotate directly on the display, without triggering changes by accidentally brushing the screen. The two sizes are due early this year for $399 and $699 respectively.
- The Spring Design Alex E-reader (shown here) is based on the Google Android platform and features dual screens -- a 6" E-ink display for printed pages and text, plus a 3.5" color touchscreen below for general use, including full Web browsing and video playback, plus downloaded Android apps. It's due in February for $359.
- The Skiff Reader has an 11.5" display using a different technology -- LG's rugged and flexible metal-foil e-paper. It uses the new Skiff Service that specializes in newspaper and magazine content, but also includes also books and blogs -- since a key backer is Hearst Corporation. It will be available for purchase later this year from Sprint.
Finally, instead of dual-screen devices, we can anticipate the best of both worlds with a new dual-mode display technology from Pixel Qi. The single display switches between grayscale reflective for E-Reader uses, and color LCD with backlight for color graphics and fast video playback. The company has developed a first 10.1" screen, designed for use in mini-laptops, multitouch tablets, and E-book readers.
See my Media Players Gallery for more on E-Book Readers.

Find the Amazon Kindle DX on Amazon.com