Happy new year! And with the passing of the holiday season, it's time to start looking forward to Spring -- with flowers and garden parties, and graduations and weddings.
So here's a look at the work of my favorite artist, Karin Hope Dixon, who creates beautiful handmade origami folded-paper flower sculptures.
You can find her classic -- and fanciful -- creations at her Etsy store (the marketplace for hand-crafted goods), including bouquets, earrings, and decorative ornaments.


Or explore her Everlasting Blossoms site and dedicated Wedding site for your celebrations, including bouquets, boutonnieres, bridal showers, centerpieces, invitations, and place cards.
You even can work with the artist to create your own custom designs -- based on your favorite theme, flowers, colors, papers, and accessories.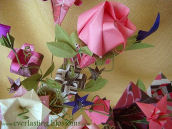 Photos, top to bottom:
- Lily blossom earrings, Japanese print red, orange, and gold leaves
- Custom cascading bridal bouquet
- Goddess bouquet, classic rose with baby accent blossoms