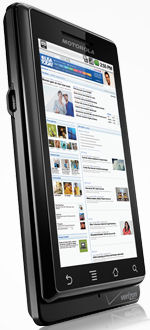 Verizon Wireless has released a new software update for the Droid smartphone from Motorola.
This Android Update 2.0.1 includes improvements for battery life, voice quality, Bluetooth, and Visual Voice Mail (see full list below). The disappointing camera performance also has been improved, with better auto-focus and shorter wait between shots.
The new firmware also updates the initial screen for unlocking your phone, which shows the date and time, and uses a horizontal swipe (instead of an arc) to unlock, or to silence the phone even if it is locked.
Your phone will automatically notify you when system updates are available, or you can check for it using the Settings application, under About phone (at the bottom of the list), and then System updates. This update is identified under About phone, Firmware version as release 2.0.1.
You can read more about the update online, though verizonwireless.com/droidsupport, which links through to a Benefits of System Update summary document (PDF).
The Verizon Support site also provides additional information about the Droid, including the User Guide and online tutorials.
See my full article, Verizon Droid from Motorola: Android 2.0, for more on the Droid's design and features and technical specifications.
See my Mobile Communications Gallery for more on smartphones.

Find the Verizon Droid from Motorola on Amazon.com

The full list of updates ...

- OS stability is improved

- Battery life is improved

- Camera auto focus functionality is improved, and time between shots is reduced

- Enhancements for three-way calling

- Audio for incoming calls is improved

- When receiving a call on call waiting, the speakerphone now remains on

- Bluetooth functionality is improved; background echo is eliminated

- Improved Bluetooth phone book transfer of contacts to in-vehicle Bluetooth solutions

- After closing a GPS application, the GPS icon will now automatically be removed from the notification panel

- Users can now receive SMS and MMS messages after an EMS message is received

- SMS and MMS may now be sent to seven-digit addresses

- Google contact merging has been updated to accommodate seven-digit numbers

- Visual Voice Mail notices now arrive instantaneously

- The corporate calendar widget user interface is updated