The downside of all our portable gadgets is all the different power adapters and cables that we need to keep them charged. The problem does get easier when your devices use standard USB ports (see previous post).
Yet if everything else is going wireless, why not power? We're not talking here about pulling energy out of the air, or beaming voltage around -- The idea is that someday you can just sit your device down on a table, and have it recharge without the muss and fuss of wires and connectors.
Sound good? We're not quite there yet, but there are a couple companies showing the way. The first products have a charging pad that you plug in the conventional way, plus compatible sleeve adapters that you attach to your portable devices. They also include universal adapters to place on the pad, with wired micro USB interfaces for charging other devices.
The Powermat line uses magnetic induction technology, so your device snaps into the proper alignment on the mat.
The Powermat Home & Office Mat and foldable Portable Mat are each $99. To adapt your devices to use the mat, the iPhone / touch dock and receivers are $39, and BlackBerry battery doors and Nintendo DSi / DS Lite backs are $29.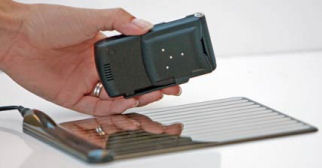 The Duracell MyGrid line (which uses the Wildcharge technology) is based on conduction, so the adapters have small metal dimples that make direct contact with the very thin tablet, but can be placed in any orientation.
The MyGrid Pad is $49, and adapter Skins are $34 for iPhone, iPod Touch, BlackBerry, and Motorola RAZR V3.
These technologies typically charge at the same rate as the device's own charger. And no, they don't spark if you put metal on them, or fry you if you touch them...
However, these products do use incompatible technologies, of course, so there will be a shake-out period in the market as the companies push to get their technology built in directly to portable devices. But someday we can hope that we can just put down our devices to recharge, on surfaces from conference room tables to kitchen counters.
See my Portable Power Accessories Gallery for more on portable batteries and power options.

Find the PowerMat Home & Office Mat
and Duracell MyGrid Pad on Amazon.com