Today's cameras are getting smarter, to try to make a good shot no matter how informal we are at shooting with them. But as cameras get smaller and lighter, the biggest issue is simply holding them steady enough to get a clean shot, especially in difficult situations like low light, high zoom, or long exposure. And this is even more of an issue with pocket camcorders like the Flip Video (see previous post), which work best if you're bracing yourself to avoid shaky video.
One solution, of course, is to carry a tripod, or at least a monopod, but lugging along extra (and obvious) equipment defeats the whole idea of carrying a lightweight and pocketable camera for spontaneous shots. Or you can use small tripods like the Joby Gorillapod to set up for an event or shot (see previous post).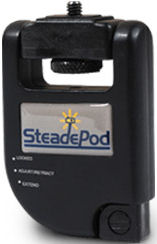 But even better for on-the-go shooting instead is a small and simple device to help you steady your shots -- like the new SteadePod from Cameron Products.
This is basically a retractable tape measure with 6 foot steel cable. Attach your camera to the tripod mount, pull out the cable to your camera's height off the ground, lock the position, then step on the attached footpad to anchor the other end. Apply a slight tension to the line, and you have a steady platform for your shooting.
The SteadePod is compact and easy to carry (a lot simpler than bringing along a stick), and quick to set up for informal shots (and less obtrusive).
Of course a tripod is still great for more formal shots, and a monopod is helpful for extended shooting, but the SteadePod fits well with taking advantage of quick, informal, and spontaneous shooting. It's priced at $29.95 ($24 street).
See my Digital Cameras Gallery for more on these and other tripods.

Find the SteadePod on Amazon.com