Small portable speakers make music much more fun, whether to listen better to your laptop, or to share the sound from your iPod or phone without requiring earphones. But even small speakers take up space on the go, especially if you want two of them for stereo sound (see previous post on the Altec Lansing Orbit and LaCie USB Speakers).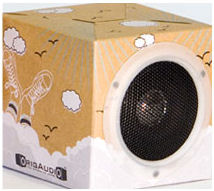 The new OrigAudio Fold and Play Recycled Speakers take a significantly different approach -- the speaker elements are mounted in a paper box!
Yes, the OrigAudio speakers are made from recycled paper, and come folded flat into a 6 1/4 x 6 1/4 x 1 3/4 inch display box. You can then unfold them to assemble into 3 1/8 inch cubes -- just fold in the ends and fit the tab A's into slot B's.
The pair of stereo speakers are wired together only about a foot apart, with a close to 4 foot cord to a standard 3.5mm headphone jack, which you can plug into almost any audio device, desktop or portable.
The OrigAudios are made of heavy-duty recycled paper, and are currently available in several fun designs, including CityScape, Lake, Surf Break, and Flowers. Or the Canvas design provides a neutral background to decorate with your own artwork.
The speakers are self-powered, so no batteries or external power is needed. As a result they are not particularly loud, so they're a better match for personal listening and small groups than blasting at a party.
The OrigAudio speakers are a fun idea, for travel or for decorating your workspace. And they are only $16, available directly from OrigAudio. And there's more to look forward to -- OrigAudio also offers custom designs for larger orders, with different materials and a second triangular design.
See my Audio Accessories Gallery for more on portable speakers and earphones