The Plantronics Discovery 975 Bluetooth headset is another interesting design approach from Plantronics, albeit not quite as different as the Voyager PRO (see previous post). The idea is to pack the electronics in a square-ish base unit, with the microphones in a 1 3/4-inch boom that gets closer to your voice, all with an understated and gently rounded design. This update to the Discovery 925 (see previous post) has less of a "designer" / jewel tone look, and is intended to be a more subtle or timeless design.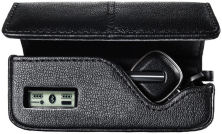 Beyond the looks, the clever element of the Discovery 975 is the included charging carrying case. This is a small padded case that includes a rechargeable battery, so you can dock the headset to recharge, tripling the headset talk time when on the road.
You can charge the headset and case separately through a standard micro-USB connection, or charge them together when docked. The case has been upgraded from the Discovery 925 to include a handy eject button, plus a LCD status display showing the battery levels of the headset and case and the Bluetooth connection status. It also provides longer and faster charging.
The Discovery 975 uses the Plantronics AudioIQ technology to remove background noise while maintaining the voice quality. It protects against wind noise with grooved vents and acoustic fabric on the boom, plus electronic filters in microphone circuitry. The result was very good in my testing, but not quite as clean and natural sounding as the Voyager PRO. It also provides handy voice prompts for muting, low battery, and lost connections.
The headset uses silicon gel eartips with a small flange plus a stabilizer loop that fits in the folds of the outer ear. This is designed to fit comfortably and securely, and be easy to insert and remove.
The Plantronics Discovery 975 is priced at $129, on the high side of its competitors, but it delivers a simple, functional design plus the clever charging case.
See my Audio Accessories Gallery for details and related products.

Find the Plantronics Discovery 975 headset on Amazon.com