(with Brian Dixon)
Ultimate Ears designs custom in-ear monitor earphones for professional musicians with wildly different styles -- and claims to be used by 75% of the world's professional touring artists for live performance (see the gallery of Ear Art designs).
And, especially after it was acquired by Logitech a year ago, Ultimate Ears has expanded its line of premium earphones and headsets for the broader consumer market. OK, these are not for mass-market consumers, but more designed to meet the needs of audiophiles and fans looking for a great sound experience.
Ultimate Ears has four lines of earphones:
- MetroFi for listening on the go at around $50 to $90
- SuperFi for serious music lovers (some with two speakers per ear) at $130 to $250
- TripleFi for a custom personal monitor experience with three drivers at around $400
- Custom pro designs for $400 up to $1150
The TripleFi earphones are particularly amazing (see previous post), providing a clear and intense listening experience that is close to good headphones or even studio monitors. But the TripleFi's are around $400, and are really for short bursts of intense, focused listening.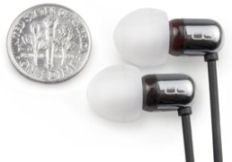 The SuperFi line still provides pro-quality sound for serious music lovers, but at around half the price. The new Ultimate Ears 700 Noise Isolating Earphones are $229, with dual drivers to separate frequencies into two high-fidelity channels per ear. They are particularly compact, cramming all that technology into a micro size that fits flush within the ear.
They include three sizes of tapered silicone ear cushions, plus a set of Comply foam ear cushions, a soft memory foam that that molds to the shape of your ear canal. These provide isolation of up to 26 dB from outside noise and retention of the music, so you can turn down the volume.
The UE 700s also include some nice additional features, with a subtle red ring to mark the right earpiece, a cable slider keep the earpieces together when storing the 46 inch cord, and a sound level attenuator adapter for unfamiliar or unstable sound sources (like an airplane feed).
In our testing, the Ultimate Ears 700s were light and comfortable, with a crisp, clear, spacious sound. There was more treble sound, but without being thin or tinny. The bottom line is that you get what you pay for -- natural sound that can satisfy professional musicians.
See my Portable Audio Accessories Gallery for details on earphones and headphones.

Find the Ultimate Ears 700 Earphones on Amazon.com