The WebAround is a simple idea, nicely realized, to help you make better-looking, more professional webcam videos.
The problem with shooting informal Web videos is that it's just not very classy to shoot clips that show the clutter of your office (much less your home) behind you -- and it also lowers the quality of your video by wasting compression on the details in the background. Instead, you can present a much nicer look by positioning a clean backdrop behind you. But it's a pain to set up and break down a backdrop in a cramped and temporary space, or to try to hang and drape cloths around.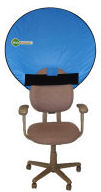 Instead, the WebAround is a flexible, collapsible, portable webcam backdrop. It's made from a light-weight nylon material, opens to a circle 40 inches in diameter, and -- here's the best part -- it has an adjustable strap to stand it up by slipping it over the back of a chair. Just set it up, sit down, and you're shooting in your own personal studio. This also gives you some privacy when you're working in an open space.
When you're done, the WebAround folds up to around 15 inches. You can clean it with a damp rag, and use a streamer or iron to remove wrinkles.
The WebAround is available for $29.95 in green, gray, or blue, and comes with a 30 day money back guarantee. You can also order it with custom designs or logos.
There's also a new reversible green screen / blue screen version with a surface designed for chroma-key work.