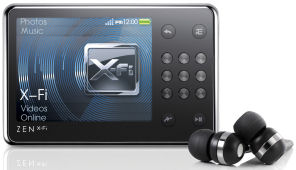 The Creative ZEN X-Fi is a step up from the ZEN Mosaic (see previous post) -- with a larger 2.5" color display, 320 x 240 pixels in landscape orientation. Yet it's still fits comfortably in a shirt pocket at 3.3 x 2.2 x 0.5 inches and 2.4 ounces.
The X-Fi name extends Creative's audio brand with X-Fi Xtreme Fidelity Audio technology to restore the quality of compressed music, plus X-Fi Expand, for a "natural listening experience over headphones that simulates the sound from stereo speakers." The product also includes Creative's EP-830 earphones.
The ZEN X-Fi also adds broader native support for video formats (MJPEG, WMV, MPEG-4/ DivX), and includes a SD/SDHC card slot for additional memory.
The ZEN X-Fi with Wireless LAN model adds Wi-Fi networking (IEEE 802.11 b/g, with WEP/WPA security).
But this is not general wireless support, like for web browsing or Internet radio and video. Instead, the ZEN X-Fi with Wireless supports three specific features:
- Chat with instant messaging using Yahoo! Messenger or Windows Live! Messenger, complete with a personal avatar with customized facial features.
- Stream or download your own media wirelessly over your home network from a PC running the Creative Centrale Media Server.
- Stream content over the Internet from the Creative MediaBox server.
However, the Creative server does have some 19 categories, from Comedy and Business, to Health & Fitness and Travel & Vacation, to Music and Radio. But each category seems to only have a handful of options, with some of the more recognizable being Discovery Channel, CNET News, and WGBH Classical. But it's basically a sampler of some content, not a deep selection like you might be used to from iTunes podcasts or Internet radio stations.
The design of the controls on the ZEN X-Fi is even more obscure than the Mosaic, which takes some time to learn. It has a unmarked 3 x 3 grid of buttons, plus another pair of buttons above and below with subtle markings (Back, Options, Shortcut, Play/Pause).
The middle 3 x 3 grid of identical buttons serves as the control panel, with the center for select, and the middle buttons on each side for left/right and up/down. The left corner buttons then jump to the beginning or end of a menu list, and the right corner buttons jump forward or back one page in a list. The 3 x 3 pad is more useful in entering text for chatting, so you can move diagonally around a virtual phone keypad, pressing multiple times to select a letter as for text messages on a mobile phone.
But if you're interested in a fun media player with an attractive combination of features, then do check out the ZEN Mosaic and ZEN X-Fi.
The ZEN X-Fi is available with 8 GB for $149
The ZEN X-Fi with Wireless LAN is available with 16 GB for $199, and 32 GB for $279
See full article: Creative ZEN Media Players: Mosaic and X-Fi
See my Portable Media Players Gallery for more on MP3 and media players.

Find the Creative ZEN Mosaic on Amazon.com