The Pure Digital Flip line of pocket camcorders features an iPod-like approach to product design -- focus on the core essentials by stripping away nice-to-have features to drive a clean and minimal design (see previous posts).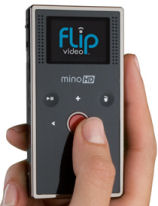 Like the iPods, the Flip Mineo (available in standard-def and HD models) has no removable battery and no slot for expandable memory. And it has no options to choose -- for shooting in different resolutions, or still photos, or macro mode. Instead, the Mineo is designed to be easy to carry and dead easy to use, and can shoot for a full hour of video. No wonder the company reports that it has sold over 2 million Flips.
So it's not surprising that that the company would make an attractive acquisition, even in the current market. And Cisco announced last week that it would be acquiring Pure Digital for approximately $590 million in stock.
But why Cisco -- doesn't it make big iron for Internet hubs? Yes, but Cisco has been expanding in the consumer market as well, including its acquisition of Linksys in 2003 (for home networking gear) and Pure Networks in 2008 (for Network Magic home networking software).
And the Cisco consumer product line is more than home networking boxes -- It includes set-top digital video recorders, media extenders, wireless cameras, wireless home audio, and networked media storage hubs.
The press release is quite clear about how the Flip extends Cisco's strategy in entertainment and communication, to "expand our momentum in the media-enabled home and to capture the consumer market transition to visual networking."
After all, the history of video has been as a mass-market but one-way medium, with television broadcasting and then cable systems. And even consumer-generated media like YouTube is still mostly about millions of people watching clips after their initial upload. But webcams and camera phones and personal camcorders like the Flip offer the promise of personal video feeds -- not 140-character Twitter feeds, but richer video clips.
Then add the promise of next-generation wireless with broadband-like connectivity through technologies like WiMAX and LTE (see Wikipedia), and you can see the interest that Cisco might have in helping to expand the Internet infrastructure to support personal video feeds...
See my Digital Camcorders Gallery for more on the Flip line and digital camcoders.

Find the Flip Video Mino and Flip MinoHD on Amazon.com