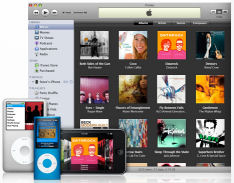 Apple describes its iTunes Store as the world's most popular online music, TV and movie store, with over 250 million TV episodes purchased and over 33 million movies purchased and rented. Its catalog features over 10 million songs, over 40,000 TV episodes, and over 5,000 movies -- now including over 1,200 movies in high definition video.
Titles already available in HD include the just-released Twilight , Transporter 3, and Punisher: War Zone, or you can pre-order upcoming titles, with Quantum of Solace available tomorrow.
Consumers do seem to have taken to high def -- Apple reports that over 50 percent of TV programming is purchased in HD when available.
You can rent movies from the iTunes Store in standard definition at $2.99 for library titles and $3.99 for new releases, with the HD versions priced at one dollar more, with library titles at $3.99 and new releases at $4.99. You then have 30 days to start watching a rental movie, and then 24 hours to finish it before it expires and disappears. Movies are available in standard def when the DVD is released and in HD within 30 days after release.
Or you can purchase movies as permanent downloads. Standard def movies at 640 x 480 start at $9.99, with the new HD versions for $19.99. In comparison, television shows are $1.99 to purchase an episode, or $2.99 for HD (at 720p resolution with Dolby Digital 5.1 surround sound).
And all songs in iTunes are 99 cents, including higher-bit-rate, DRM-free iTunes Plus songs (256-Kbps AAC). You can upgrade to the high-quality format for 30 cents a song, or 30% of the price for an entire album. Music videos, and custom ringtones made from songs, are also 99 cents.
You then can watch your movies in HD on your Mac or PC computer, or bring your iTunes library to your widescreen TV in HD with the Apple TV (starting at $229). Or play then in standard def on an iPhone or iPod with video.
iTunes 8.1 for Mac and Windows includes the iTunes Store, and is available as a free download
See my Portable Media Players Gallery for more on Apple iTunes and the iPod line