Someday all our devices will be linked wirelessly, so our growing collections of data and media can be automatically synced with whatever device we happen to be using. Until then, we're stuck with manually cabling devices together and then selecting files to copy and sync between them.
This isolation is particularly irritating when you're on a trip shooting photos, and you'd like to share them with family and friends at home and elsewhere. One interim solution is to use the Eye-Fi Wi-Fi SD card (see previous post) to add wireless connectivity to your camera.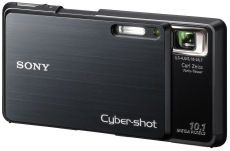 But now Sony has introduced its own Wi-Fi enabled camera, the Sony DSC-G3 Cybershot Wi-Fi digital camera. The G3 connects to photo sharing sites though wireless access points (802.11b/g), public and personal, free and fee-based, secure and unsecured. It includes free AT&T Wi-Fi access though 2012.

The embedded Web browser navigates to the Sony Easy Upload Home Page, with direct upload to Web photo and video sharing sites like Shutterfly, Picasa, YouTube, Dailymotion, and Photobucket. You also can upload to other sites, send e-mail when you upload, and access uploaded photos from sharing sites to display on the camera.
As a camera, the DSC-G3 has a 10 megapixel sensor, 4X optical zoom, and shoots VGA (640 x 480) video.
The 3.5 inch touch screen LCD display is widescreen, to use the camera as a photo album to view your favorite images. The G3 includes 4 GB of internal memory (enough for 1000 full-res photos), and accepts Memory Stick DUO PRO media cards of up to 16 GB. There's even a PhotoMusic slide show option with built-in effects and pre-loaded music tracks (or add your own).
The camera incorporates Sony image processing technology to try to make shooting goof-proof, including Intelligent Scene Recognition of 8 types of scenes (Backlight, Twilight / with Tripod, Portrait, Landscape, Macro), 14 photo scene modes, Dynamic Range Optimizer for best exposure and contrast, Face Detection (up to 8 faces, children vs. adults, with smile detection, and blink warning), plus Double Anti-blur with SteadyShot Optical image stabilization and high ISO sensitivity for low light.
The DSC-G3 available in black for $499.99.
See my Digital Photo Cameras Gallery for more on this and other digital cameras

Find the Sony DSC-G3 camera on Amazon.com.