Over the past year, SanDisk has simplified its Sansa line of flash-memory media players to three products, while adding the new slotMusic / slotRadio concept and products (see Sansa store). The result is three models with clean designs that are easy to pick up and use.
- The Sansa Clip is a small music-only player with a simple blue display, now available with 1, 2, 4, and 8 GB of storage, for $34 to $99.
- The Sansa View is the upscale video player with a larger 2.4" portrait screen -- Rotate it to the side for a landscape view of photos and videos. It's available with 8, 16, and 32 GB, for $149 to $249.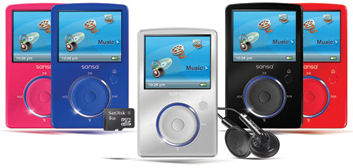 - And the Sansa Fuze is the just-right video player with a 1.9" screen, now available with 2, 4, and 8 GB, for $69 to $99 (originally $79 to $129). SanDisk also says that the Fuze will support the new slotRadio format.
All also include an FM radio tuner, and a microphone for voice recording, plus the Fuze and View have a microSD/microSDHC card slot to add additional storage.
And the Sansa players are easy to access from a PC -- You can just drag and drop files in the supported formats, use Windows Media Player to sync, or download the Sansa Media Converter software. The Fuze and View do use a custom Sansa connector instead of USB.
The Sansas have a clean design for the controls and interface, with the power/lock button on the size, a rocker main control pad below the display, and only one other button, Home to the main menu. Click the control pad left/right for back/forward, up and down for play/pause and options, and press the center button to select.
The Fuze and View have an additional helpful control feature -- the rocker area of the control pad rotates as a thumbwheel, for quick menu navigation and volume adjustment. (Unlike the iPod, the thumbwheel does actually spin, and the circular frame around the control lights up in blue when it is in use.)
The result is very nice to use, with smooth response to the controls and nice interface touches and animations. For example, on the main menu, the menu items float by in pseudo-perspective while you spin the thumbwheel. Nice.
See my Portable Media Players Gallery for more information on portable players.

Find the Sansa Clip, Sansa Fuze and Sansa View on Amazon.com