Peter Shankman is a marketing pundit, CEO of the marketing and PR strategy firm The Geek Factory, and has a long history of inventive marketing stunts, especially leveraging viral marketing (see previous post).
Shankman will be speaking in Princeton this Thursday evening, February 19, on "Social Networking: For Good and For Profit."
He has a strong message on the value of social networking, for business and for individuals. He will discuss social networking, viral marketing, and all the "fun ways" to use our social networking technologies – Facebook, Twitter, LinkedIn. Most importantly, he will discuss why sometimes it is a better bet not to use any of them.
Shankman also will talk about "non-traditional ways of thinking" – including examples of unconventional PR and social networking examples, such as Will It Blend and his own Help A Reporter Out website.
The meeting is sponsored by the Princeton chapters of the ACM / IEEE Computer Society, and is open to the public -- the meeting is free, including refreshments.
The meeting is held at 8 PM, at the Sarnoff Corp, Route 1 at 571, in Princeton (see Directions at the bottom of the page).
Download the printable Meeting announcement (PDF)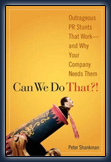 Shankman's book, Can We Do That?! Outrageous PR Stunts That Work -- And Why Your Company Needs Them, preaches similar lessons of being creative and taking risks, starting by shaking yourself out of complacency and ruts.