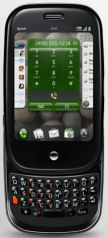 The unveiling of the Palm Pre phone at CES in January was big news, for good reason -- It's an interesting combination of new ideas in the design of a connected PDA phone.
Of course, the announcement was just a preview of the product, which is due to be released in the first half of this year. Palm was careful to demonstrate only certain functions, and refused to discuss or demo other features, or even to allow hands-on access by others.
But what Palm did demonstrate included several interesting new refinements for a connected portable PDA / phone, based on a clear design approach that holds a lot of promise if it can deliver the full product.
In particular, the Pre's interface is designed to make it easy to move between multiple activities. And its core applications are designed to understand and manage information from multiple sources, including desktop (Outlook) and online (Google, Facebook).

See full article: Palm Pre Preview
See my Mobile Communications Gallery for more on smartphones.