Jan Ozer certainly knows how to flog a topic to death! If you want to know about producing video for streaming, and especially understand the trade-offs in using streaming codecs, then Ozer has done an amazing amount of work to get it all figured out and then organizing the info to help the rest of us -- which he has kindly made available in his magazine articles, conference talks, and in a new mixed-media DVD tutorial.
If you want to know more, definitely head off to the Streaming Media West conference coming to San Jose on September 23 - 25, 2008, and make sure you see Ozer's sessions on Encoding H.264 Video for Streaming (Mon. 9/22) and Producing H.264 Video for Streaming (Wed. 9/24) -- (see previous post on his Streaming Media East presentation).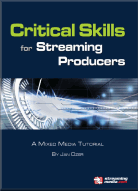 But to get the full story, you need Ozer's new mixed-media DVDs on Critical Skills for Streaming Producers ($249), with additional editions focused on Critical Skills for Adobe Creative Suite 3 and Critical Skills for Apple Final Cut Studio ($99 each).
These feature a 300+ page book in PDF format, with links to play associated video clips and tutorials that present the results of Ozer's exhaustive research on streaming video:

- Extensive comparisons of the key streaming codecs (MPEG-4 / H.264 for QuickTime and Flash, On2 VP6 for Flash, Microsoft Windows Media Video WMV/VC-1) -- including rating quality and collecting 70+ examples of encoded videos, for both standard definition and high-def.
- Encoding tutorials with screencam videos of Adobe Media Encoder and Apple Compressor demonstrating encoding for Premiere Pro and Final Cut Pro.
- Extensive analysis of major broadcast and corporate streaming websites to research how they are actually using streaming video, including detailing information including video resolutions, frame rates, and data rates.
But that's not all -- besides the advice and information on choosing and tuning the streaming codec, the book also includes multiple chapters on the production process and workflow, with advice on designing the set, lighting, shooting, and editing for streaming delivery. Yeesh!
Ozer has been very open with this information -- presenting a Codec Comparison at the Streaming Media East conference earlier this year (download the presentation PDF) and writing articles, including H.264 Codecs in Streaming Media magazine. He even wrote up his experience in capturing Screencam videos. (See Ozer's bio and links on StreamingMedia.com.)
Ordering info from StreamingMedia.com / Information Today:
- Critical Skills for Streaming Producers, $249
- Critical Skills for Adobe CS3 Production Premium Streaming Producers, $99
- Critical Skills for Final Cut Studio Streaming Producers, $99
And check out Jan Ozer's more traditional paper books