CyberLink, best known for its PowerDVD player software, has really stepped up the latest version of its consumer video editing application -- CyberLink PowerDirector 7 is a convenient and powerful tool that combines a friendly and straightforward interface, "Magic" tools that apply smart technology to assist with common editing tasks, plus the power to edit high-definition video formats and author to Blu-ray disc. For a consumer-priced tool, it's easy and quick, even when working with HD material.

The PowerDirector 7 interface makes video editing straightforward and simple, especially for home users who want good results quickly and with a minimum of fuss, including the "magic" automated tools, and sharing through portable devices (Sony PSP) and the Web (YouTube).
The Ultra version adds end-to-end support for high definition / widescreen video, from importing to editing and output, with advanced authoring features for burning to DVD and Blu-ray Disc. As with similar applications like Pinnacle Studio 12, you also can edit high-def video from the new HD camcorders and burn HD productions to regular DVD discs -- and play them in beautiful widescreen HD on the Sony PlayStation 3 and other Blu-ray players (see previous post).
PowerDirector is available in two versions: Deluxe for $69, and Ultra for $199, with AVCHD disc support and Blu-ray disc authoring. Released in May 2008, it's available as a boxed retail product or as a download.
You can try out CyberLink PowerDirector by downloading the trial version from the CyberLink website -- it's a 30-day trial with some other limitations.
See my full article: Summary: CyberLink PowerDirector 7 for a summary of the editing workflow, highlighting the new features.
See my Video Editing Software Gallery for information and links to video editing tools.

Find CyberLink PowerDirector 7 on Amazon.com
New Features ...

Key new features of PowerDirector 7 include support for new high-def video formats, online access for downloading and sharing media and editing elements, plus editing enhancements and improvements.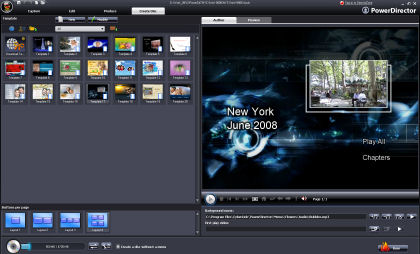 HD editing support includes AVCHD video, Dolby Digital 5.1 surround sound, and authoring to Blu-ray disc.
Online integration includes downloading and sharing effects and templates via CyberLink's Director Zone site, and searching and downloading photos from Flickr and sounds from Freesound.
Editing enhancements include improved performance, adjustable editing workspace, easier media management, keyframe video and PiP effects, improved Magic tools, and 3D slideshows with beat detection.