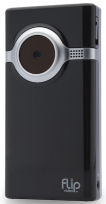 Pure Digital has released a new version of its Flip Video line of portable and fun camcorders -- the Flip Video Mino (see previous posts on the Flip Ultra, and the related RCA Small Wonder line).
The Flip line is all about quick, fun, and easy shooting -- the cameras power on in under 4 seconds, and then just press the big red button to start recording. There are simple controls for play/pause, rewind/forward, volume/zoom ... and that's it.
No issues about camera setup or video formats or other details -- just plain and simple. There's even a pop-up USB connector so you don't need any external cables.

The cameras shoot 640 x 480 MPEG-4 video -- plenty good enough for quick posting to the web, and often quite reasonable for TV-res playback.
The new Flip Video Mino is designed to be even easier to carry than the Ultra by shrinking to half the thickness (now 3.94 x 1.97 x 0.6 inches), and from 4.9 to 3.3 ounces -- much less bulky in the pocket. The slimming is enabled by doing away with removable batteries, and using internal rechargeable batteries, replenished though the USB connector, which now pops out to the top of the unit.
Other enhancements include the smoother design with backlit touch-sensitive buttons, and an enhanced video engine, so you now can pause, fast forward, and rewind during playback.
The camcorder also includes built-in software for Windows and Mac to organize, edit, and share your videos, now including uploading directly to MySpace for the social networking generation.
The Flip Video Mino is available in white and black for $179, with 2 GB of internal memory, to store approximately 60 minutes of video (There's no slot for additional storage cards).
These simple camcorders make great wedding gifts for easy and fun shooting on the honeymoon. And they work well for desperate adults who don't know what kind of gift to get younger relatives.
See my Digital Camcorders Gallery for more on digital camcoders, from webcams to HD.

Find the Flip Video Mino on Amazon.com