With the victory of the Blu-ray Disc format for high-def movies, the great hope of the movie studios and consumer electronics industry is that that consumers will rush out to buy HD movies on disc for viewing on their home theatre displays.
But today's consumers want their media available where, when, and how it best fits their needs. And if you spend the money to buy a new HD version of a movie you already own on DVD (and maybe previously on VHS), you're not going to be thrilled to be asked to buy additional lower-res versions for your Apple iPod, Sony PSP, or other portable player.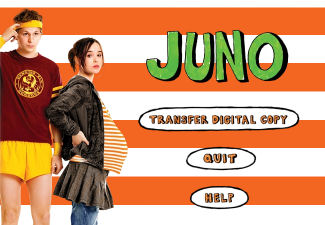 The studios do understand this, and so, for example, Fox has been experimenting with an ongoing effort to provide digital files of movies along with its Blu-ray discs, what it calls Fox Digital Copy.

Warner Home Video, in comparison, has been tryiing out two forms of digital copies. Special editions of titles like Superman Returns included the option to download an electronic copy over the Internet. But electronic downloads are slow, and it really may not be a good idea for the industry to be training consumers to learn the joy of downloading movies over the Internet.
The more convenient option is to store the digital copy right on the disc with the movie, as with the December release of Harry Potter and the Order of the Phoenix. The Warner digital copy is only in Windows Media format (i.e., not for Macs or iPods), and authorizes a copy for one PC and one portable media device.
Meanwhile, Fox has worked with Apple to support Fox Digital Copy on both PCs and Macs. Fox then provides digital movie files in iTunes-compatible format for playback on PCs, Macs, and iPods (and the iPhone), as well as in Windows Media format for playback under Windows and on compatible Plays For Sure portable devices (e.g., from SanDisk, Creative, Samsung, Sony, and others).
I had the chance to try out the Digital Copy feature with the Juno and Alien vs. Predator: Requiem Blu-ray releases. These are two-discs sets: Disc 1 is the movie on Blu-ray, with special features, and disc 2 is a DVD with the digital copy files. 
The disc 2 DVD actually contains three copies of the movie. 
Windows Media "PC", ~ 720 x 390 - 300 resolution
"Portable" Windows Media, lower 320 x 174
Apple iTunes, ~ 853 x 460 - 356
The two higher-res versions are just over 1 GB in size, and the smaller portable versions are around 400 to 520 KB, so all three fit well on a single DVD at good quality.
When inserted in a PC, the DVD launches a simple Copy Manager application (in Adobe Flash). It then can transfer the movie files on the DVD disc to your hard disk, installing the digital copy to iTunes and/ or Windows Media Player, and from there to a portable player.
While the process was relatively painless, after entering the 16-digit serial number, the copy protection will get in the way if you want to move the movie to a another computer or different portable device.The Fox website advises consumers to call with such license authorization issues.
It would seem that these digital copies make sense for the studios, adding real value for consumers while not threatening high-def Blu-ray releases (or even standard-res DVDs) too much, since the digital copies are somewhat lower resolution. Even more, the movie video files do not contain the interactive navigation and extra features that can make the disc versions much more interesting, especially as the more advanced BD-Live interactive capabilities become available later this year.
See the full article: Digital Copy: Movie "Downloads" from Blu-ray Disc

Find Alien vs. Predator: Requiem [Blu-ray]
and Juno [Blu-ray] on Amazon.com