(with Josh Page)
It's a wired world -- or actually getting more wire-less. We're connected at broadband speeds, theoretically able to electronically access our data from the vast cloud of the Web, but yet we still need to physically carry our digital stuff around with us -- music and videos in the iPod, contacts on the cell phone, calendars and documents in the PDA.
Sneakernet is still very much alive, as we use USB flash drives to carry and share the vast digital debris of our lives. Having our personal materials right there at hand or in our pocket is often still a lot faster and more reliable than trying to set up a shared networking connection between two arbitrary devices.
In the same way, home networking was supposed to bring effortless convergence to sharing media within the house -- watching Internet video from the PC on the TV, live TV on PCs and portable devices, and accessing recorded programs from any device, from living room to bedroom to office. Yet the promise of acronyms like DLNA and UPnP is still being developed (see my Consumer Home Media Gallery), and many homeowners are not thrilled about becoming the IT and networking support staff for multiple PCs and multiple devices, much less consumer electronics devices.
Which brings us back to sneakernet, as the approach used with the SanDisk Sansa TakeTV (also www.take.tv) for transferring PC-based videos onto a TV screen. Yes, there are adapters for hooking up SanDisk and other media players for scaling up portable clips on a TV, but the TakeTV is designed specifically as a portable device for watching TV-res clips.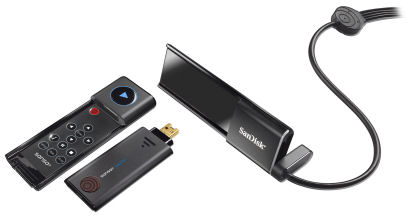 The TakeTV comes in three parts: a Player unit with a USB port that you plug in to your PC to copy video clips (like a USB flash drive), the TV Cradle that plugs into the TV with standard A/V connectors, and a small remote control that is stored as the cover of the Player unit.
To watch your PC clips on TV, then, just drag and drop to copy them to the Player unit, as you would with any USB flash storage device.
Then sneakernet the Player unit over to your TV and plug it in to the TV Cradle, and use the remote control to access the on-screen menu to select the clips to play.
The TakeTV works much like a media player, except that it has no manual controls or earphone jack (since you use the remote control), and is designed to store and play higher-res TV video, up to full standard-definition 720 x 480/576, NTSC and PAL.
Unlike most media players, however, it does not support a variety of common formats -- the videos must be MPEG-4, as AVI, DivX, or XVID. It's designed for watching full-screen programs or videos that you've edited, and not miscellaneous low-res Web clips.
The TakeTV components also are small and light enough to move from one TV to another as needed. The Player unit docked with the remote control is 4 5/8 x 1 1/2 x 1/2 inches, and the TV Cradle is a little longer at 5 3/8 inches -- plus the A/V cables (composite video, S-Video, stereo audio) and the power adapter. The set up time from first opening the package to watching a video on television was roughly ten minutes, making the TakeTV ideal for quick and convenient video sharing for sharing your PC videos as a big screen experience.
The SanDisk Sansa TakeTV is available with 4 GB of storage for $99, and 8 for GB $149 (for 5 to 10 hours video, based on 720 x 480 MPEG-4 video at 1.5 Mbps. with 128 Kbps audio).
See my Consumer Home Media Gallery for more on PC / TV media capture and transfer.

Find the SanDisk Sansa TakeTV on Amazon.com