Peter Shankman is Hyper ... And that's a good thing!

Peter Shankman describes himself as "living proof of what can happen when you harness the power of Attention Deficit Hyperactivity Disorder (ADHD) and put it to work" -- with an emphasis on Hyper.
Shankman spoke (rapidly) on Social Networking last Monday at a meeting of the River Communications Group.

The site was Marsha Brown's restaurant in New Hope -- a great space for preaching, designed inside a 125-year-old church right on Main Street in the heart of New Hope. We were in the former choir loft above the main dining room, and Shankman was so dynamic that the wait staff below was cheering along with us.
Peter Shankman is a marketing pundit and consultant, and CEO of the marketing and PR strategy firm The Geek Factory. He has an astounding storehouse of stories, especially PR stunts that leverage viral marketing. This is a guy who turned his own 30th birthday party into a sponsored exclusive event, with over 30 corporate sponsors and 400 gift bags worth over $1000 each.
Shankman also is a big fan of social networking, saying that everyone should be on Facebook, even though your kids will be creeped out when their parents try to "friend" them. The kids are over MySpace, which is about the total number of friends, while Facebook is your important people. And LinkedIn is "your resume digitized" online, but a poll of the audience agreed that it does not result in much business.
But why establish an online presence? If nothing else, so you can "control your online reputation; the way other people see you." Do you own YournameSucks.com, or CompanynameSucks.com, to try to preempt negative hits in online searches? Even if not, you can establish a solid presence online, build links and reputation in the search engines, and at least be the first hit for your name.
Of course, social networking is more than just your static resume online. Shankman's Facebook page goes beyond "the business stuff" to "humanize" him -- not the gory details of his private life, but some sense of his personality, from skydiving to fat cats, so that people can make connections to him.
He warns that Facebook and other social networking are not magic solutions, especially "if you suck at [real-world] networking." Instead, you need to "live on the social grid." But this is not about business networking for profit -- Shakman is a big believer in Karma, in "random twists of fate," so that the more you do to help others, "to become a hero" to them, the more opportunities open up to you.
But, he says, "you've got to take the risk."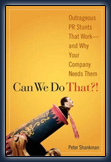 His book, Can We Do That?! Outrageous PR Stunts That Work -- And Why Your Company Needs Them, preaches the same lessons of being creative and taking risks, starting by shaking yourself out of complacency and ruts.
So change your routine -- food, travel, reading, exercise, even people you talk to. Take a walk to break away, and then try something new.

it might be exciting and creative, and fun.
UPDATE
Steve Lubetkin has posted the audio podcast of Shankman's presentation on his Professional Podcasts site (MP3 file, 26 min.).
The audio and video podcasts of the meeting is now available on the River Communications Facebook group, and on the River Communications web site.