Digital photo viewers were tremendously popular gifts last Christmas season, as consumers were met with a flood of products from a huge variety of companies, some new to this kind of product. Unfortunately, some of these products were rushed to the market without much attention to niceties such as the menu interface, user controls, or the display quality.
Then there are companies like Parrot, which has been focusing on wireless Bluetooth interfaces for applications including hands-free car kits, wireless speakers (see previous posts on Parrot), and digital photo frames.
In fact, the first Parrot Photo Viewers were Bluetooth-only -- designed for receiving photos from mobile phones, or Bluetooth-enabled digital cameras and PCs. This actually made them more difficult to use for more basic users, and even people with experience with digital cameras, since you couldn't load photos via a memory card, or over a USB connection.
Continuing this wireless theme, Parrot developed the Parrot DF7700 MMS Digital Photo Frame for Europe, supporting a SIM card with a dedicated phone number built directly into the photo frame. You then can load photos remotely via MMS from a mobile phone, updating the slide show on the frame sitting in your family's house to show the latest great shots from your trip.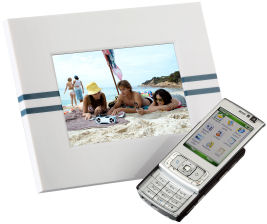 A version of that design is now available in the U.S. as the Parrot DF7220 7" Photo Viewer. There's no MMS, but it adds connectivity options for transferring photos -- Bluetooth (wireless from a camera phone or PC), mini-USB (synched from a PC) and a SD / MMC memory card slot (direct from a camera) -- all for around $126 (street price).

This is a nice design -- straightforward controls, clear menus, and swappable clip-on plastic outer frame. It automatically adapts the picture size to the screen and automatically rotates the picture when used horizontally or vertically (landscape/portrait). And you can set the on/off time, or have it power off when dark. The photo viewer plugs into wall power with a thin, white 7-foot power cord.
The 10 MB internal memory holds some 300 photos, in JPEG and GIF formats.
However, the color display is relatively low resolution for the 7" screen -- 410 x 234 pixels (vs. 320 x 240 for the iPod nano and classic, for example) -- so it's best for viewing across the room, and not up close like a hand-held media player.
So load it up with your favorite photos and set it up on a table or a mantel -- or make a present of your memories.
See my Consumer Digital Cameras Gallery for more on photo accessories.

Find the Parrot 7" Photo Viewer on Amazon.com