Adobe has released a beta of Photoshop Express (www.photoshop.com/express), its free Web-based photo editing and sharing application that brings Photoshop tools to the browser. You can upload your images to store online, edit them in the browser, and then share them online (Adobe product info).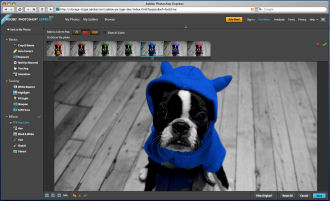 Express provides a gentle introduction to the Photoshop line for potential future customers, to then step up to the Photoshop Elements 6 desktop application for Windows and Mac (see previous post). And it serves as a demonstration of Adobe's Flex open source framework for building highly interactive Rich Internet Applications (RIA) based on Flash Player 9.
However, this is a beta version. It only supports images in JPEG format, and no larger than 10 MB and 4000 pixels in height and width. While free, Adobe offers only 2 GB of online storage, probably smaller than the card in your digital camera. It's currently available to US residents, only in English.
And as noted in the CNET review, make sure you understand the Terms of use (as you should with any site where you upload your personal work) -- In particular, you grant Adobe unlimited worldwide rights to use your content in any way it sees fit, including licensing and selling your work.
(Adobe has updated these terms of use -- see following entry.)
See my full article on the Photoshop Elements applications: Editing in Adobe Premiere Elements 4 and Photoshop Elements 6
See also Summary - Photoshop Elements 6
More on Using Photoshop Express ...
Try out Photoshop Express using the Test Drive feature with a sample gallery of photos to play with.
You can upload photos from your desktop, organize them in galleries, and download and upload photos from popular photo and social networking sites including Facebook, Picasa, and Photobucket (but not MySpace).
Then edit your photos and apply effects, including some interesting new options. Basic editing tools include Crop & Resize, Auto Correct, Touchup (remove scratches and other imperfections), and Red-Eye Removal. Overall photo Tuning tools include Sharpen, White Balance, Fill Light, and Soft Focus. And the Effects include Distort (e.g., facial features), Sketch (to look like a drawing), and Pop Color (to highlight an object's color while muting the background of the rest of the photo). Choose from sample photos showing different variations of the effect
And then share your work in your own online public gallery of photos, as animated slideshows, though E-mail, or by embedding or linking photos to online sites and personal blogs.
You'll then have to step up to a desktop application like Photoshop Elements for features like more advanced organization, searching, and grouping; more sophisticated editing and enhancement like editing brushes, lighting and color correction, and photomerge; and sharing through physical prints, photo books, CD/DVD, and the like.
See the online support pages and FAQ for more details.