The Apple iPhone is a Holiday Delight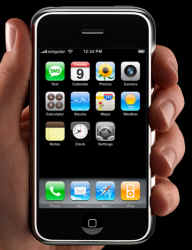 The Apple iPhone has been a tremendous success in revitalizing the smartphone concept. The iPhone combines phone, PDA, and Web usage -- with the full iPod player experience (syncing content with iTunes), mobile phone, plus Wi-Fi wireless networking.

While dedicated devices like the Palm Treo are focused on hard-core organizer functionality -- large contact lists, fast e-mail access, one-handed operation -- the iPhone provides a much more integrated and pleasing experience. Even in its first release, the iPhone (and its companion iPod touch without the phone features) will make a very satisfying holiday acquisition, with the promise of future upgrades for hard-core organizer needs.
What really makes the iPhone special, however, is the delight you feel in using it. You can read plenty of rave reviews (and unbelievers) online, but the real test is when even techno-agnostic spouses (the kind that aren't so enthused by each new electronic gadget) actually enjoy using it -- happily browsing the Web and viewing and shooting photos as soon as they first get their hands on it.
See full article, trying out the iPhone in Princeton and New York, and comparing it to the Treo -- The Apple iPhone is a Holiday Delight
See my Portable Media Players Gallery and Mobile Communications Gallery for details and related products
More with fun links on iPhone delight and trade-offs ...


Continue reading "The Apple iPhone is a Holiday Delight" »