The new Microsoft Zune players will be available tomorrow. See my previous post for a summary.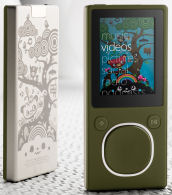 Microsoft is offering some interesting options to customize your player -- not just covers or stickers, but permanent laser-engraving.
Zune players purchased directly from Microsoft at the Zune Originals site can be customized in three ways, with free engraving and shipping for a limited time:

- Artist Series: One of 27 designs created exclusively by 18 world-renowned artists
- Tattoo Series: One of 20 graphics, with up to three lines of text
- Up to five lines of personal text
See Gizmondo's Complete Guide to the new Zunes for a walk-though of the PC and player interface changes.
See my Portable Media Players Gallery for details and comparisons to other players.

Find the Microsoft Zune 80 GB and Zune 8 GB on Amazon.com