Today's multi-gigabyte USB thumb drives are a great way to move digital files between PCs -- including music and video clips. But to view those clips, you need to get back to a PC, or move up from a USB drive to a media player -- with a headphone jack for a music player, and a color display for a video player. But with today's high data capacity and high-res video, a tiny handheld screen does not provide a nice viewing experience, for your personal use, much less to share with a group -- that's what TVs are for.
Within your home, you can bridge PC content to a TV with various approaches for media sharing, with media extender boxes like the Apple TV or game machines like the Microsoft Xbox. But these require yet another set-top box, and struggling with networking and connectivity issues.
At the CES conference in January, SanDisk introduced an alternate approach, what was then called USBTV -- drag content onto a USB player as usual on your PC, and then carry that device to the TV to play back the content on the bigger screen (as you can now do with some iPod TV docks).
And now SanDisk has introduced its first such product, renamed the SanDisk Sansa TakeTV PC-to-TV video player.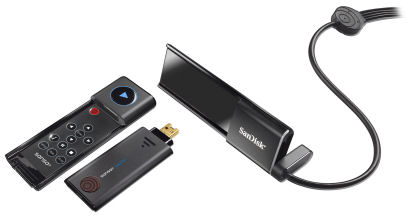 Download content to the TakeTV player on your PC, and then slide it in to the dock connected to your TV with standard AV composite or S-Video cables. Then use the built-in remote control and on-screen guide to select the stored content to play.
The TakeTV supports the DivX, XVID, and MPEG-4 video formats, up to 720x576. It's available with 4 GB of flash memory for $99.99 (five hours of video), or 8 GB for $149.99 (10 hours).
SanDisk also announced the public beta of its new Fanfare download service, offering both free (ad supported) and paid programming. It uses the SanDisk TrustedFlash content protection technology for flash media.
See more in my Portable Media Players Gallery

Find the SanDisk Sansa TakeTV on Amazon.com