Today's mobile phones are becoming music players -- you can sync songs from your PC music library, plus get the immediate gratification of downloading songs from online libraries over your wireless data connection, as with Verizon Wireless V CAST Music.
Then wireless PDAs like the Palm Treo can browse the Internet to download music clips and play Internet radio stations over the wireless data connection.
Then the Apple iPhone takes this further, mating the iPod player with a mobile phone, with the option of using Wi-Fi for faster broadband access to the iTunes Wi-Fi Music Store
(See my Mobile Communications Gallery for more on wireless media, under Mobile Internet and Multimedia.)
Meanwhile, media players are also going wireless by adding Wi-Fi. The Microsoft Zune uses Wi-Fi to share content bewtween players, and the ARCHOS 605/705 WiFi players with big touchscreen displays have an integrated Web browser, and can access and play media from your local network.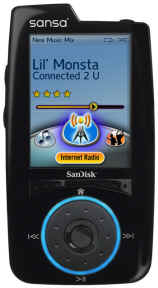 And Wi-Fi even makes sense on a mini player with a small screen. The SanDisk Sansa Connect is handheld -- but not tiny -- at around 2 x 3 1/2 inches, with a 2.2 inch color screen and usable controls.
It plays music and photos (but not video), so the screen is great for navigating menus and browsing the stored media files. It also has an internal speaker to share music with friends.
The Connect comes with 4 GB of internal memory for around $129, and is expandable with a microSD expansion slot.

But what makes the Connect especially interesting is its built-in Wi-Fi support. You can connect to Internet radio stations to stream music from any number of channels and styles. Users with a Yahoo! ID can listen to LAUNCHcast Internet radio, browse Flickr sets and photos, and communicate with Yahoo! Messenger friends and other Sansa Connect users nearby. Users with a Yahoo! Music Unlimited To Go subscription can discover and download music, and listen to and download tracks friends have recommended.
The Wi-Fi setup automatically finds available networks -- you can connect to a public hotspot, or enter the password for a protected network (but not arbitrary parameters). In testing it around New York City, it worked great in hotel hotspots, but unfortunately not in Bryant Park (it saw the signal, but could not connect, apparently because the service requires acknowledging a terms of service screen).
In fact, the Connect makes a handy Wi-Fi meter, listing the signals found, open and lock, and signal strength.
See my Portable Media Players Gallery for details on these products.

Find the SanDisk Sansa Connect on Amazon.com