With its acquisition of Altec Lansing, Plantronics has developed some interesting new devices combining its expertise in lightweight communications headset products with enhanced sound and music capabilities.
The Plantronics .Audio digital computer headset line ranges from lightweight stereo voice headsets to DSP-enhanced and virtual surround sound hardsets with full ear cushions, featuring PC and Mac compatible USB sound card adaptors for plug-and-play digital audio.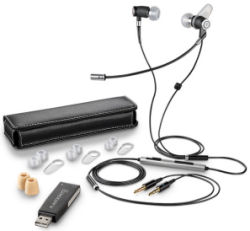 But the new idea is the Plantronics .Audio 480 Virtual Phone Booth Headset, designed as a portable computer headset especially for mobile laptop users. It strips down a headset to the essentials: a pair of stereo earbuds especially for listing to music, plus an adjustable boom microphone for VOIP calls.

It's available in two versions, with analog connectors ($89) or USB, with an analog-to-USB adapter with a built-in sound card interface, especially for Macs ($109).
The "Virtual Phone Booth" concept is designed for laptop users in public spaces. It's based on two elements: sound-isolating earbuds to block out external noise, and a noise-canceling microphone and wind-reduction technology to minimize external noise for callers.
The product includes a selection of earbuds for a comfortable fit. This is especially important since there's no headband or over-ear loop -- instead the left earbud with the mic has an eartab extension that nestles in the folds of your outer ear as a stabilizer.
The cord also has a thin inline controller with a mute button and volume slider, so the entire headset still collapses down easily into the included carrying case for travel.
See the Portable Audio Accessories Gallery for details and related products.

Find the Plantronics .Audio 480 Virtual Phone Booth Headset on Amazon.com