Yes, the Apple iPod players are popular and elegant (see summary post), but the line has only three models, with a limited selection of capacities and colors. If you're the type who likes lots of alternatives when you're shopping, then check out the Creative line of portable media players.
(See my Portable Media Players Gallery for details and links. Photos not to scale, prices approximate.)
If you want a small MP3 / music player beyond the iPod shuffle, the tiny Creative ZEN Stone is 2/3 ounce without a display with 1 GB for only $39 (see review post).

The ZEN Stone Plus is 3/4 of an ounce with the addition of a blue OLED display, with 2 GB for $69, plus FM radio and voice recording. Or try the slightly larger ZEN Nano Plus with 1 GB for $49, also with line-in recording.

Or for highly portable video playback, there's the amazingly small Creative ZEN V Plus, only 2 1/2 x 1 1/2 inches and 1.6 ounces, with 1.5 inch mini color screen -- 1 GB for $69 and up to 8 GB for $169.

Then to store your entire media library, step up to disk-based players like the video iPod, with much more capacity, larger screens and therefore heftier designs.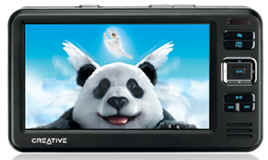 The Creative ZEN Vision has a 3.7 inch display at 8.4 ounces, and the Creative ZEN Vision W has a 4.3 inch widescreen display, with 30 GB $279, 60 GB $399.

But the big screen, high capacity, built-in speaker, and removable battery add bulk -- the ZEN Vision W measures 5 1/4 x 3 x 1 inches and weighs 10 1/2 ounces.

Which brings us to the new Creative ZEN (yes, just "ZEN") -- a best-of-both-worlds option like the new iPod nano (see earlier post), with video playback on a somewhat larger screen, but still small and light since it's based on flash memory.
The ZEN front is sized like a credit card with a 2.5 inch screen, at 2.2 x 3.3 x 0.44 inches, and 2.3 ounces. It's available with 4 GB for $129, 8 GB for $199, and 16 GB for $249.

(Compare the iPod nano with smaller 2 inch screen at the same 320 x 240 resolution -- smaller and lighter at 2.75 x 2.06 x 0.26 inches and 1.74 ounces, and priced at 4 GB for $149, 8 GB for $199.)
The ZEN supports multiple media formats -- audio (MP3, WMA, WAV, Audible audio and AAC4), video (WMV9, MPEG4-SP3, DivX 4/5, XviD, MJPEG), and photos (JPEG). Beyond playback, it has FM radio, voice recording, and an expansion SD card slot. Plus it can sync organizer data with Microsoft Outlook.
The Li-ion battery provides up to 25 hours of audio playtime, or 5 hours of video.
See my Portable Media Players Gallery for details on these and similar products.

Find the Creative ZEN on Amazon.com