Continuing with Sony audio accessories ... Portable music players are great for personal use, wired to a headset or wireless to a Bluetooth headphone. But sometimes you want to share the music, or just listen without having to wear earphones.
Sony offers two interesting options: a pocket-size portable speaker that doesn't even need batteries, and a lap-sized Bluetooth speaker that can play wirelessly.
The Sony Travel Speakers - SRS-TP1 are passive travel speakers. Just attach to your music player and they just work -- no batteries or AC adaptor is required. They're not terribly loud, but work great in a relatively quiet room.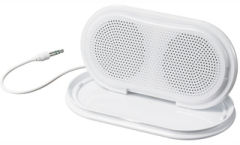 These pocket-size speakers even store flat; the protective speaker lid folds under as a speaker stand. They connect to players with a 12" straight stereo mini plug, weigh 7 oz., and are available in white or black for $24.99.
The Sony Bluetooth Speakers - SRS-BTM30 has a stereo minijack input for direct connection to audio players, plus support Bluetooth A2DP for stereo audio. These 3W stereo speakers sound great playing wired to a tiny MP3 player, and wirelessly from a mobile phone (your experience will of course depend on the quality of the original material).
These lap-size speakers have a volume control, and are powered with AC adaptor or 3 AA batteries They're around 11 x 4 1/2 x 5 1/5 inches, weigh 1 lb. 10 oz., and are available for $149.99.

See more in the Portable Audio Accessories Gallery

Find the Sony Travel Speakers on Amazon.com
Find the Sony Bluetooth Speakers on Amazon.com